In today's home and lifestyle market, natural looking products have steadily gained popularity, mirroring the societal trend of going green and mindful living. One company called GreenKraft caters to this demand, while providing sustainable livelihoods to thousands of women. GreenKraft, a producer owned enterprise incubated by Industree Foundation in India, creates natural and biodegradable home and lifestyle products using a variety of locally sourced renewable materials.  In addition, and crucially, GreenKraft's labor and management practices provide additional income and build prosperity throughout the value chain. 
Banana Bark: In the state of Tamil Nadu, India, banana production constitutes a significant agricultural livelihood. Once the banana tree bears fruit, however, it will not grow bananas again, and the remainder of the tree is considered waste material.  GreenKraft saw an opportunity to use the banana bark, which is durable and beautiful, to create long lasting home and lifestyle products.  Artisans sort, dry, and weave the banana bark into baskets, lighting fixtures, decor products and more., Banana fiber is also twisted into ropes, which is then weaved into placemats and other densely woven home goods. These handcrafted products are purchased through wholesale orders by major retailers like IKEA. The sale of banana bark creates increased income for farmers as well, in addition to dependable incomes for the artisans of GreenKraft.  The enterprise's production units are located close to banana plantations, so the materials travel locally, cutting down on the carbon footprint for transportation of resources.
Bamboo: GreenKraft has recently established production units for the processing of bamboo. Bamboo is a natural and biodegradable material increasing in popularity for several reasons.  Bamboo produces more oxygen and absorbs more carbon dioxide than trees used for hardwood and cotton plants.  It is also highly adaptable, and can withstand a wide variety of climates where other plants perish from over hydration, dehydration, or extreme temperatures.  It also does not require pesticides, which helps prevent water and air pollution.  Focussed on the upliftment of the indigenous Medhar tribe, the Bamboo Resource Centre in Channapatna, India, looks to breathe new life into their 900 year old Bamboo craft, bringing a piece of history to modern homes through the marriage of traditional skill, innovative design, and sustainable business models. This Centre supports over 100 Medhar families in the local areas, providing them with vital income, and social sector safeguards including social security.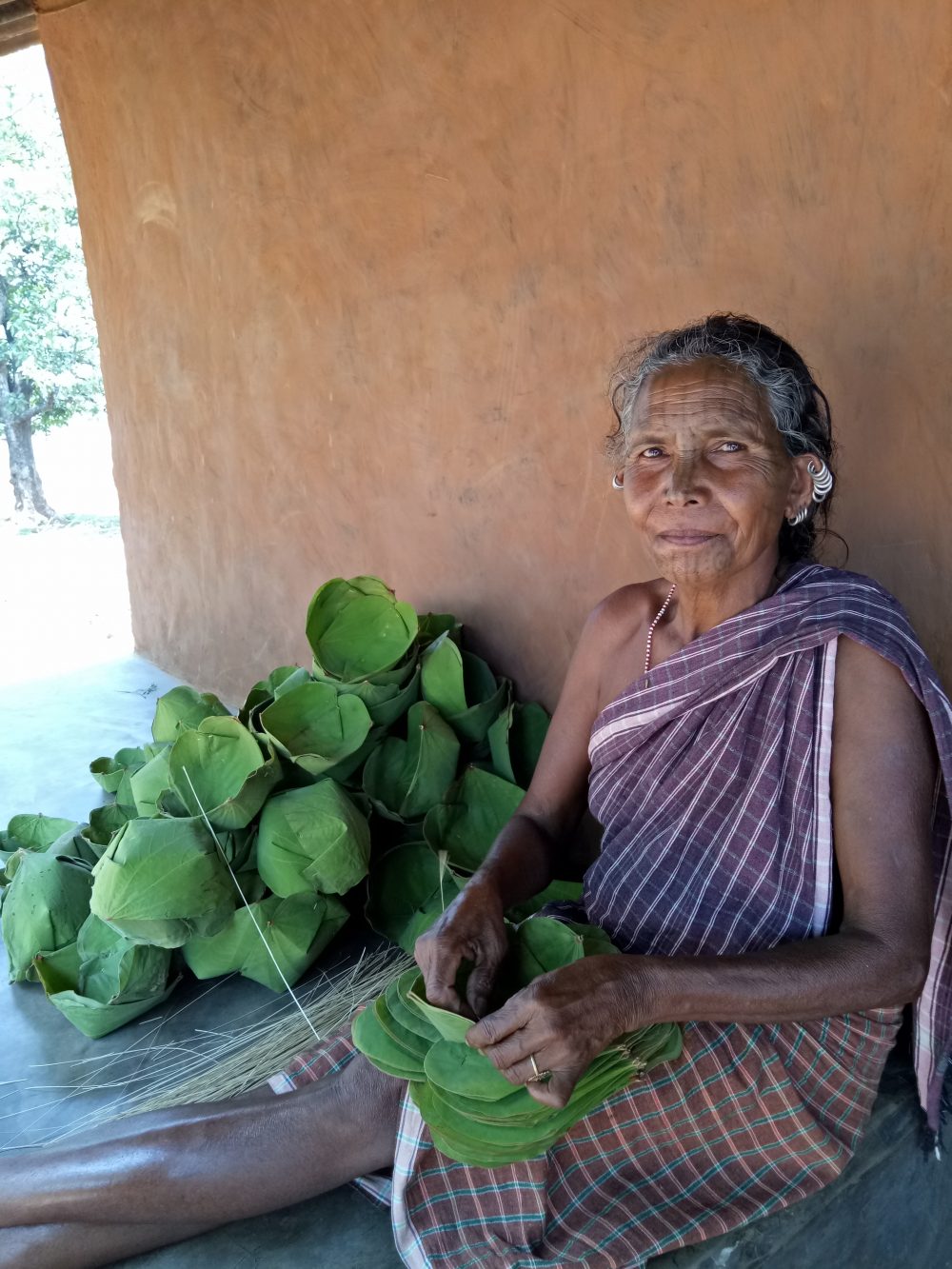 Siali leaves: Siali leaves are classified as Non-timber forest produce (NTFP), and have been gathered by indigenous tribes as a source of income for generations.  Siali leaves are part of a large creeper plant that grows deep in the jungle in the Orissa region in India. On account of its size, texture and durability, siali leaves make for a very good source of raw material for the production of disposable plates, bowls, and tableware.  In rural India, tribal women travel deep into the forests to collect these leaves, which are then stitched together with bamboo splits to make fully biodegradable products.  GreenKraft is working with indigenous women in Orissa to help them learn new designs and move up the leaf plate value chain.  Creating these products increases their income up to four times the amount they would earn by just collecting the leaves, representing an enormous value addition.  Use of  materials such as siali leaves, helps  combat plastic use and provides vulnerable populations such as tribal women in India with increased incomes and a better quality of life.
By using sustainable materials, organizations such as Greenkraft provide environmentally friendly alternatives to products that are daily necessities or staples in the home.  Individuals can help to support organizations like this by making sure the natural looking products they are purchasing are in fact sustainably and ethically produced.
POSTED BY
creative
| Mar, 23, 2022 |
0 Comment